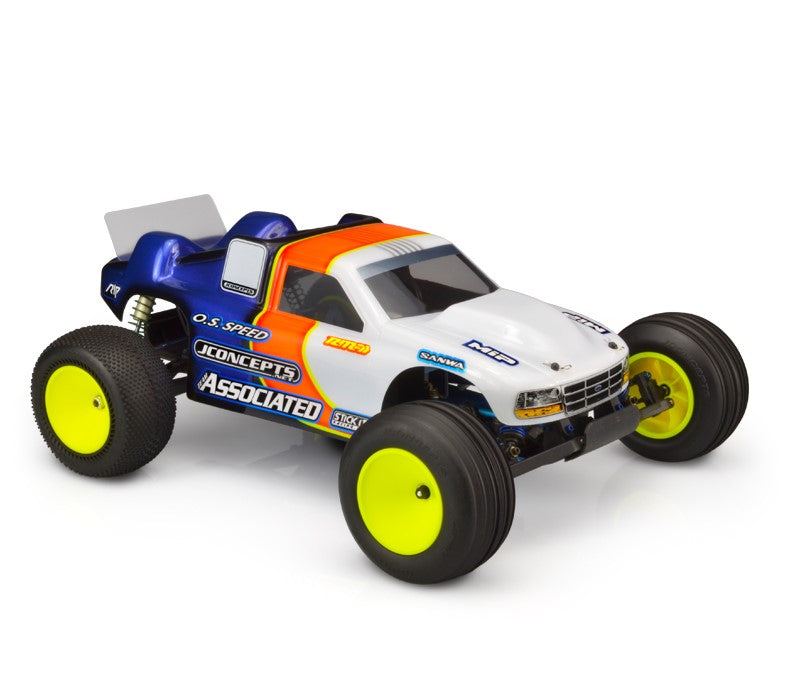 When it came time to upgrade the original Team Associated RC10GT, there were updates to the front and rear shock tower geometry. Along with these changes, the body was changed to house the new shock positions, and the width was increased to make room for different engine and exhaust combinations.

JConcepts, with approval from Team Associated, has reintroduced the genuine "GTB2" shell. This allows the faithful to recreate, rebuild and race with authentically styled bodies from the heyday of competitive gas truck racing. JConcepts was able to restore older generation construction and with a blend of today's materials, the GTB2 body is back out on the market.

The 1996 body includes a rear spoiler which is much needed for slippery race conditions, and 3mm mounting hardware. Also, the set contains window mask, and, of course, clear polycarbonate body (no decal sheet included).

Sold clear. Shown painted for display purposes only.
Features:
Iconic, original GTB2 styling
Soft front hood-scoop and headlights and grille
Neutral cab design with built-in number plates
Roll-bar with connected rear tower humps
Rear spoiler with mounting hardware
Clear heavy-duty polycarbonate with protective film
Team Associated T6.1 or T6.2 donor truck
Flywheel collet (ASC81371 recommended)
.12 Engine w/ SG Crankshaft (slide or rotary carb)
Tuned pipe and manifold
Throttle servo
Standard or Low profile steering servo
On/Off switch
Receiver battery pack 
12mm strapping tape for receiver battery
Transmitter/receiver
Fuel line
Glow igniter
Battery charger
Air filter oil
Fuel bottle
Starter box - LRP Ongaro or AE box with adapter plate recommended
Starter box battery
Fuel