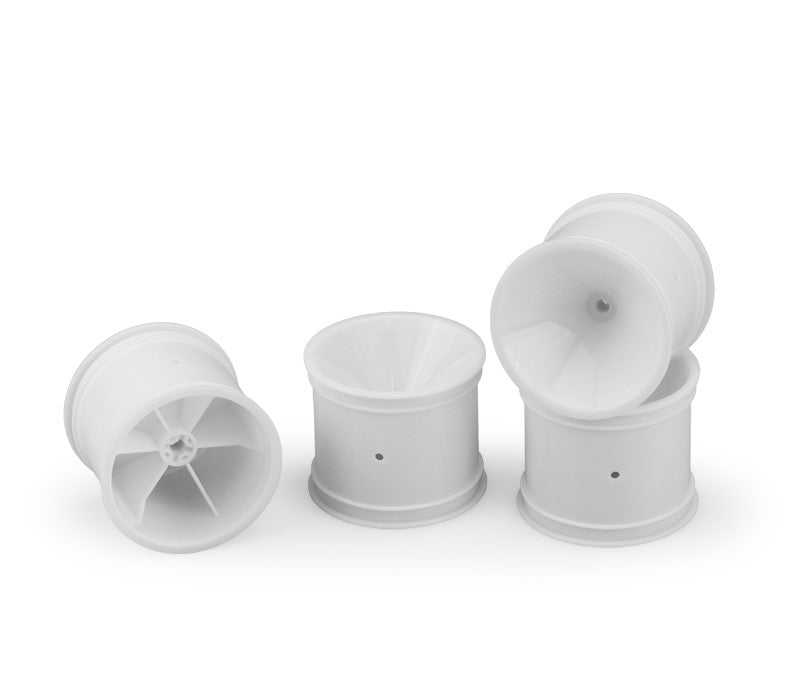 JConcepts supports the vintage RC enthusiast with the release of new Mono wheels. The original offset front wheels for the RC10T have been highly sought-after for years by drivers looking to outfit a restoration project or racers actively racing their vehicles. The 2.2" Mono wheels are inspired by the originals, feature the iconic dish shape and utilize the pin drive setup for 3/16" axles.

The wheels include a vent hole on the outer diameter and an outer lip to reduce the ability for glue to run down the face of the wheel during application and curing. JConcepts wheels are molded in a durable material with precise techniques to ensure dependability and performance. Mono wheels are available in bright white and fluorescent racing yellow, packaged 4 pieces per package and backed with JConcepts racing heritage and customer support.

Notes from the team -
The inner hole diameter of the Mono wheel is designed for 3/16" axles with traditional pin drive setup.

Features:
Classic dish styling
Popular 2.2" mounting bead diameter
Available in bright white and fluorescent racing yellow
Durable material, precision molding techniques
Fits 3/16" axle diameters
Compatible with RC10T, T2, T3 and GT
Team Associated T6.1 or T6.2 donor truck
Flywheel collet (ASC81371 recommended)
.12 Engine w/ SG Crankshaft (slide or rotary carb)
Tuned pipe and manifold
Throttle servo
Standard or Low profile steering servo
On/Off switch
Receiver battery pack 
12mm strapping tape for receiver battery
Transmitter/receiver
Fuel line
Glow igniter
Battery charger
Air filter oil
Fuel bottle
Starter box - LRP Ongaro or AE box with adapter plate recommended
Starter box battery
Fuel