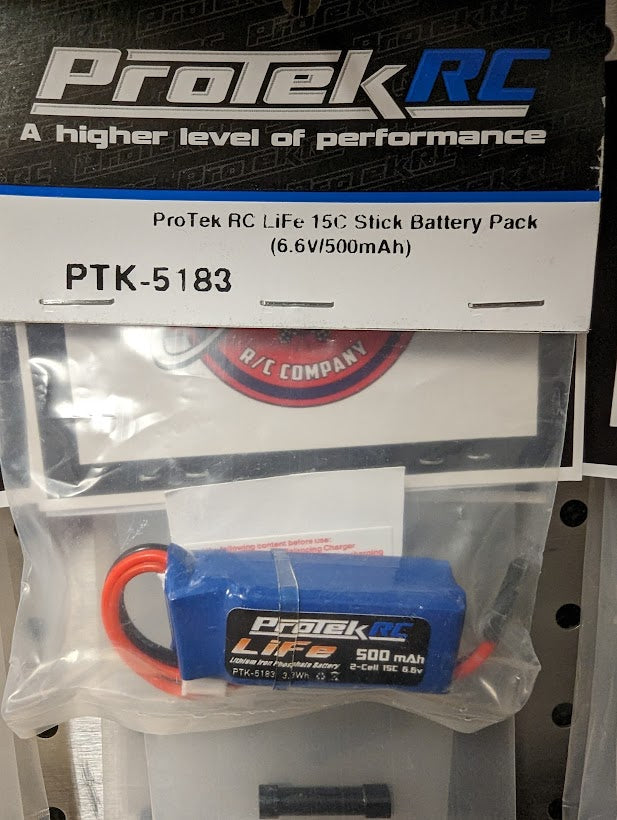 Recommend recharging after each qualifying round or 5 minutes. Enough run time for 20 minute mains with most servos.

This is the ProTek R/C LiFe 1/10 Scale Receiver Battery Pack and is intended for use with vehicles that require a 4xAAA NiMH style battery pack. Lithium battery technology is evolving. With cell dimensions that fit anywhere a standard Li-Poly battery will and rapidly increasing capacity, LiFe chemistry will soon set the standard that all others are judged by. With the ability to deliver 1000+ usable cycles, and a life span up to 4 times longer than Li-Poly batteries (when cycled under the same discharge conditions), these batteries offer the user an excellent balance of performance and value. LiFe batteries are more durable than Li-Poly and are able to handle a higher level of abuse when compared to Li-Poly without the risk of pre-mature failure. Unlike Li-Poly, LiFe cells can be stored in a fully charged state with little to no loss in stored power, and can be discharged deeper with less risk of damage to the cells. Most importantly, LiFe batteries are SAFE! There is no risk of combustion! LiFe cells will not catch fire or explode when over charged, or after a deep discharge.
What about the voltage?
A 2 Cell LiFe battery produces 6.6 volts nominal, which is almost a full volt less than a 2 Cell Li-Poly battery. The LiFe battery is not meant to replace the performance of a Li-Poly battery, it is simply another option. LiFe offers the user a battery with a good discharge curve that is better than that of a NiMH battery, but without the risk of damage or fire that exists when a Li-Poly battery is abused. Additionally, when used as a receiver pack, a LiFe battery eliminates the need for a voltage regulator, which reduces the risk of failure by eliminating a component that could potentially fail.
NOTE:
 Brand new LiFePO4 batteries have been found to fail prematurely if they are deep discharged below 33% capacity too early. A break-in period of 20 cycles is currently recommended. While testing has shown that this battery can be charged at up to 3C rates, it is recommended that this battery not be charged at rates higher than 1C to maximize the lifespan of the battery. Additionally, LiFe batteries should not be discharged below 2.5V per cell to avoid pre-mature failure and maximize battery life span.
We also recommend you 
REMOVE
 the batteries from your cars or radios when you are done, or at least unplug them to avoid accidental over discharge if the unit is left on.
IMPORTANT:1)
 You will need a LiFe specific charger to charge the pack (NiMH, NiCD or Li-Poly only chargers WILL NOT WORK!)
2)
 You must not discharge the LiFe battery pack below 33% capacity during the break in period or below 2.5V per cell after break in.
3)
 You must not charge this LiFe battery pack at rates higher than 1C.
4)
 Read the instructions carefully before operating this battery.
Team Associated T6.1 or T6.2 donor truck
Flywheel collet (ASC81371 recommended)
.12 Engine w/ SG Crankshaft (slide or rotary carb)
Tuned pipe and manifold
Throttle servo
Standard or Low profile steering servo
On/Off switch
Receiver battery pack 
12mm strapping tape for receiver battery
Transmitter/receiver
Fuel line
Glow igniter
Battery charger
Air filter oil
Fuel bottle
Starter box - LRP Ongaro or AE box with adapter plate recommended
Starter box battery
Fuel